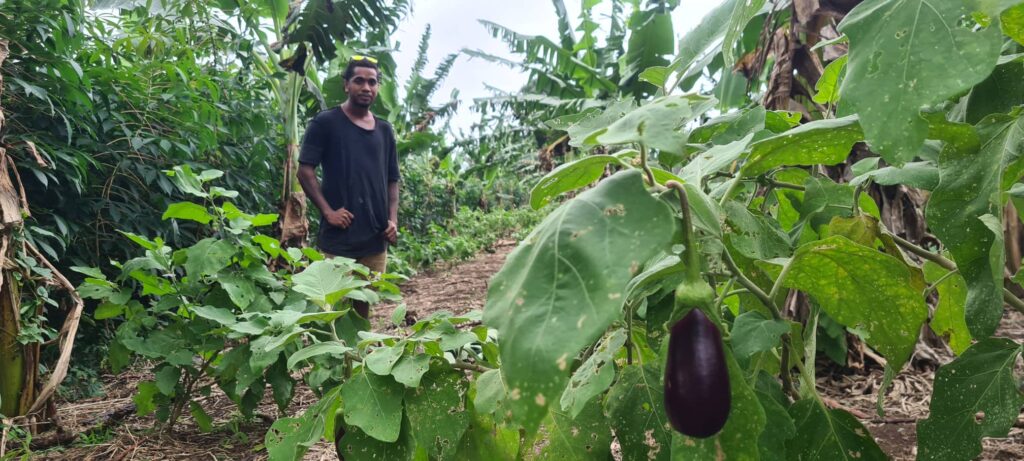 Setareki, 27, was already toiling the land when the LEAD project began implementation on the island in 2020. He is passionate about farming, and farming is all he has for sustainable livelihood, having dropped out of school early in high school.
While he was already enjoying the return from his farm, he was still eager to improve and become better and the opportunity came with the project.
"I didn't finish my education so I was working as a market boy for a living helping to sell produce at the Suva Market. That was where I realized that there was money in farming thus, I returned home," Setareki said.
" Farming is not learnt so I started out until ADRA came along and I have heard of the good work they have been doing and I was eager to learn more about farming because that's my only source of income."
The project targets CSOs and while the members had the opportunity to attend the Climate Smart Agriculture training and also access agriculture supplements, Setareki as an individual farmer didn't meet the requirement.
"I had to visit the ADRA office in Nasau to seek help. I was looking for any sort of advice that to help me and the two officers went through the agricultural manual with me and explained all that I needed to do to assist in my farm."
He learned several techniques which included plotting, intercropping, mulching and using organic manure from the rotten compost, turning his plot into demo farm.
"I realized how easy it became using the new techniques and just focus on organic farming and it has enabled me to keep on expanding my farm."
Today, Seta is the only and biggest supplier of egg plants in the island. He has been harvesting from his 100 plants for the past year, will soon begin harvesting from his 500 plants that are ready for harvest in a month's time while he recently planted an addition 1200 plants using the new techniques learnt.
He earns $200 a week from two harvests in a week selling most of his produce to Koro High School. Seta has also ventured out to plant chilies after realizing the potential in this market.
"I started sell at $8 a kg and then went on to sell a $20kg to Punjas & Sons Ltd to be processed for chilli sauce. The highest payment I have ever received from my chilli sale was $3000 cash on hand in a day," Seta said.
While he also plants yaqona (kava), Seta has realized there's fast cash from the sale of vegetables." From his income, he has bought a motorbike for transportation and also built his own house. From his weekly savings, Seta is focused on purchasing a 3 tonne truck to be hired on the island for transportation. He is also committed to further expand his farm and do export.