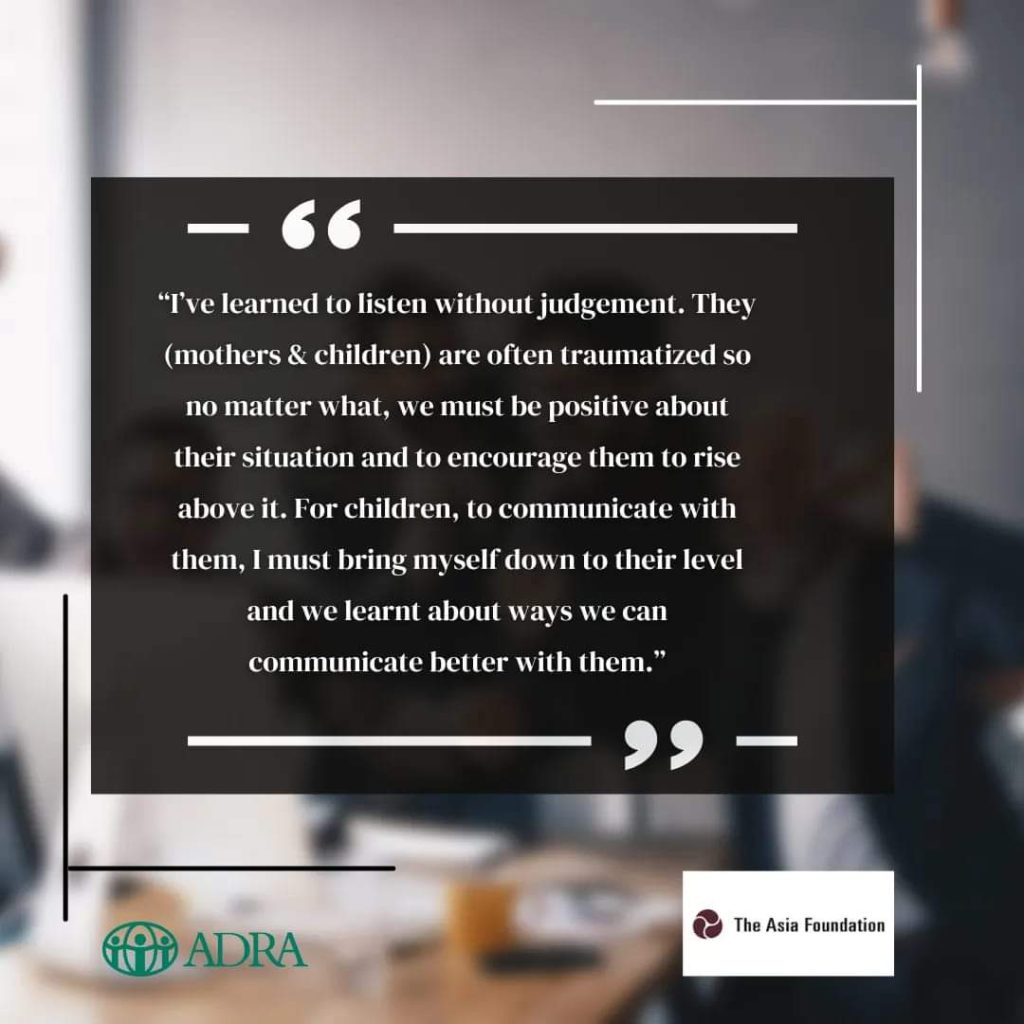 Susana (not her real name) works for a Family Care Centre run by a faith-based organisation in Lautoka.
She has been working at this Centre for years, providing first help to affected families, particularly those from domestic violence background.
According to Susana, the Psychosocial First Aid Trainings organized by the Adventist Development and Relief Agency (ADRA) Fiji through the support of The Asia Foundation have been really helpful, further improving the way she now conducts her work.
She attended the first 𝑷𝒔𝒚𝒄𝒉𝒐𝒍𝒐𝒈𝒊𝒄𝒂𝒍 𝑭𝒊𝒓𝒔𝒕 𝑨𝒊𝒅 (𝑷𝑭𝑨) 𝒇𝒐𝒓 𝑷𝑭𝑨 𝑽𝒐𝒍𝒖𝒏𝒕𝒆𝒆𝒓𝒔 𝒂𝒕 𝑫𝒊𝒗𝒊𝒔𝒊𝒐𝒏𝒂𝒍 𝒂𝒏𝒅 𝑫𝒊𝒔𝒕𝒓𝒊𝒄𝒕 𝒍𝒆𝒗𝒆𝒍𝒔 training in 2021 which was conducted using the national training manual for '𝑷𝒔𝒚𝒄𝒐𝒍𝒐𝒈𝒊𝒄𝒂𝒍 𝑭𝒊𝒓𝒔𝒕 𝑨𝒊𝒅 𝒇𝒐𝒓 𝑭𝒊𝒆𝒍𝒅 𝑾𝒐𝒓𝒌𝒆𝒓𝒔 𝒊𝒏 𝑭𝒊𝒋𝒊' and she was fortunate enough to have been part of the PFA Training to support young people (including children) that was held last year.
"When we have victims of Domestic Violence coming into our Centre, I had difficulties trying to communicate with them about their situation and they usually return home without completely being "healed" thus they frequent the Centre," Susana said.
"But thanks to the trainings, I've learned ways to deal with them – mothers and children alike. The way we talk to them is important so that they feel safe to share their problem, opening up about their experience and allowing us to provide first help before we refer them to professionals at Empower Pacific and Medical Services Pacific."
"I've learned to listen without judgement. They (mothers & children) are often traumatized so no matter what, we must be positive about their situation and to encourage them to rise above it. To communicate with children, I must bring myself down to their level and we learnt about ways we can communicate better with them."
Susana says she is now confident in her work as she has learnt how to handle victims who frequent the Family Care Center.
She is hoping that more of the similar trainings are conducted in churches and should be specifically focused on PFA for Domestic Violence victims so that leaders can fully understand how to handle members of their congregation who are often victims to domestic violence.