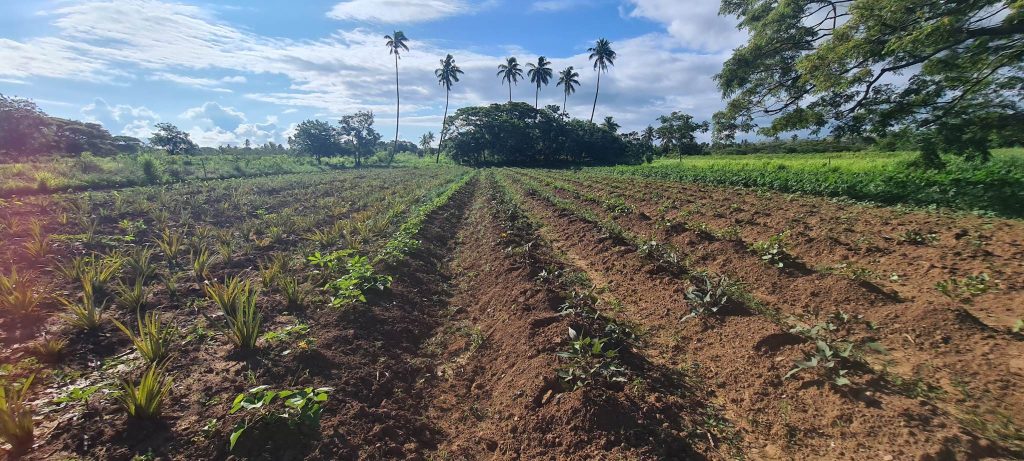 Lomawai becomes resilient
Lomawai village in Nadroga, located roughly halfway between Nadi and Sigatoka, on the coastal side of the Queens highway, is known for its abundance in seafood.
In fact they rely on their seafood supplies for their everyday living – their source of income and for their daily consumption.
Since the implementation of the Food and Nutrition Security, Community Resilience, Economic Sufficiency Project at the beginning of the year, a lot of lifestyle changes have taken place in the village for the better.
Through the Latter-Day Saint Charities project, people of Lomawai have their resilience and adaptive capacities improved with each household having their food and nutrition security increased through various activities implemented under the project.
Lomawai is amongst the 10 communities in the Western and Central Division benefiting from this development project
Nutrition Meals and balance diet
Fish is an everyday meal for the people of Lomawai but it was often served plainly with vegetables far from being consumed. According to Maleli Tuivuya, their diet changed after ADRA conducted various trainings and awareness as part of the project.
He said people then realized the importance of having a balanced diet particularly for their children.
"We have abundance of fish in Lomawai and we eat fish every day. The trainings that were conducted by ADRA as part of the project taught us many valuable lessons particularly the 3 main food groups – bodybuilding, energy and healthy protecting food.
He said their children are now taking healthy meals too for their school lunches.
Backyard Gardening
To ensure their vegetable supplies are consistent, the villagers are now involved in backyard gardening -something they also learnt to build resilience and food and nutrition security for their family.
Maleli said this was something new to them because they often thought the soil was not good for planting vegetables.
"We live by the sea so we only assume that the soil wasn't suitable for planting. ADRA taught us how to utilize our backyard and as part of the climate smart agriculture training conducted, we learnt new techniques that has enabled us to grow vegetables.
"We now have cabbages, beans, tomatoes and pumpkin in our home gardens thus contributing to our health meals."
New Agriculture Knowledge
Today, new agricultural knowledge had been acquired by the people of Lomawai. Apart from the backyard gardening where they are utilizing lesson learned from the Climate Smart Agriculture trainings that were held, a demonstration farm has been set up where they are applying the new agricultural techniques.
With a focus on building a resilient community, villagers learned more about ensuring they are food secure throughout the year, even during cyclone seasons.
"The climate smart agriculture training has allowed us to be implement new farming techniques. We have acquired new knowledge such as spacing when you are planting, the different season and crops/vegetables that you need to plant. Considering the cyclone season from November to April, we are now planting crops that are resilient to the weather."
Maleli explained that they are now planting kumala instead of cassava because kumala is considered resilient and can still be harvested during the cyclone season. He said they are now confident in farming as they have learnt which vegetables to plant throughout the year.
Resilient Crops
Maleli explained that they now have eight varieties of sweet potatoes planted in their demonstration farm.
Applying the knowledge learnt from the training, once harvested, the demonstration farm will supply kumala vines to other farmers in the village and nearby ones to plant on their own farms.
"Before we only had 2 varieties but now, we have eight and we are grateful."
In their demonstration farm which is equipped with drip irrigation system supplied by the project they have planned 10 lines of sweet potatoes. Each line is measured at 90 metres.
They also have 12 lines of pineapple and dalo leaves with sweet corns planted in between.
Women Involvement
With a committee set up to monitor the activities in the demonstration farm, villagers still turn up to help out particularly women. He said everyone is happy about the progress.
"Our women enjoy the changes brought about by the project which has improved our livelihood. They are now in charge of cleaning the farms to ensure it is clean and they are much organized about it.
"You see there's now overgrown weed because our women are attentive and they take their role seriously."
Thank you ADRA and LDS Charities
Maleli has extended his appreciation to ADRA Fiji and Latter-Day Saint Charities, on behalf of his Nalolo Clan and the chief of Lomawai, for being selected to pioneer this development program.
He said they are indebted by the assistance because it has helped in building a resilient Lomawai village.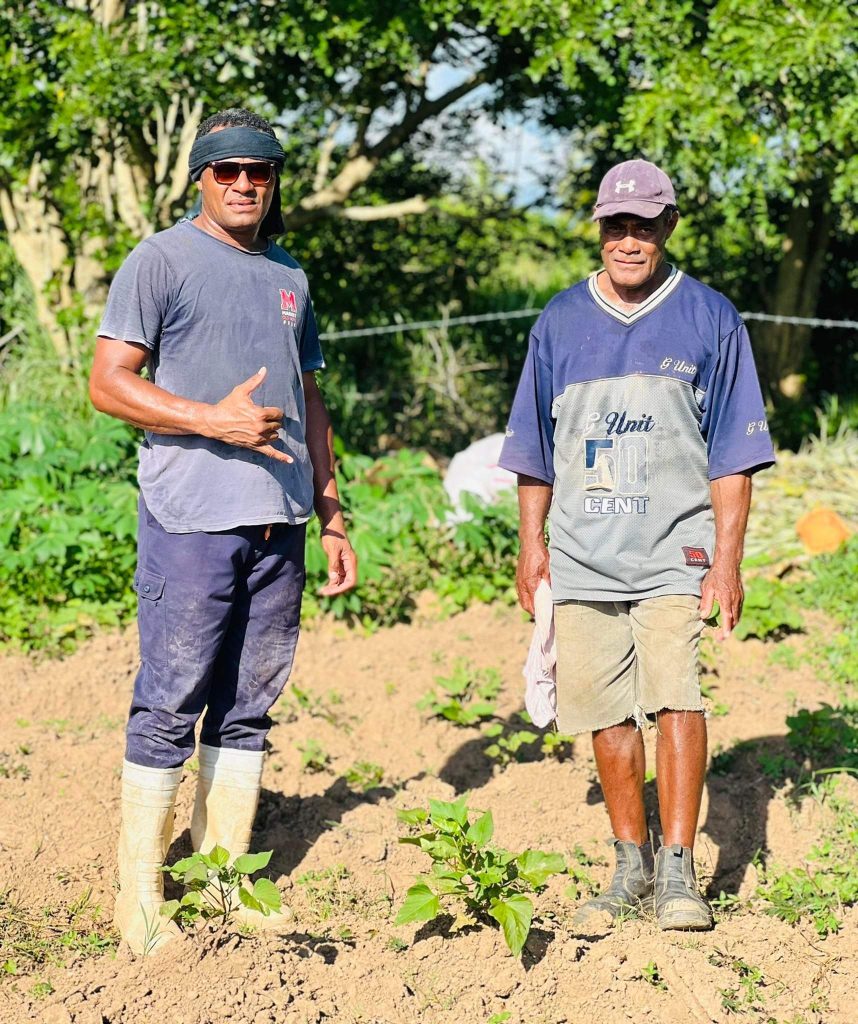 Maleli with the village headman