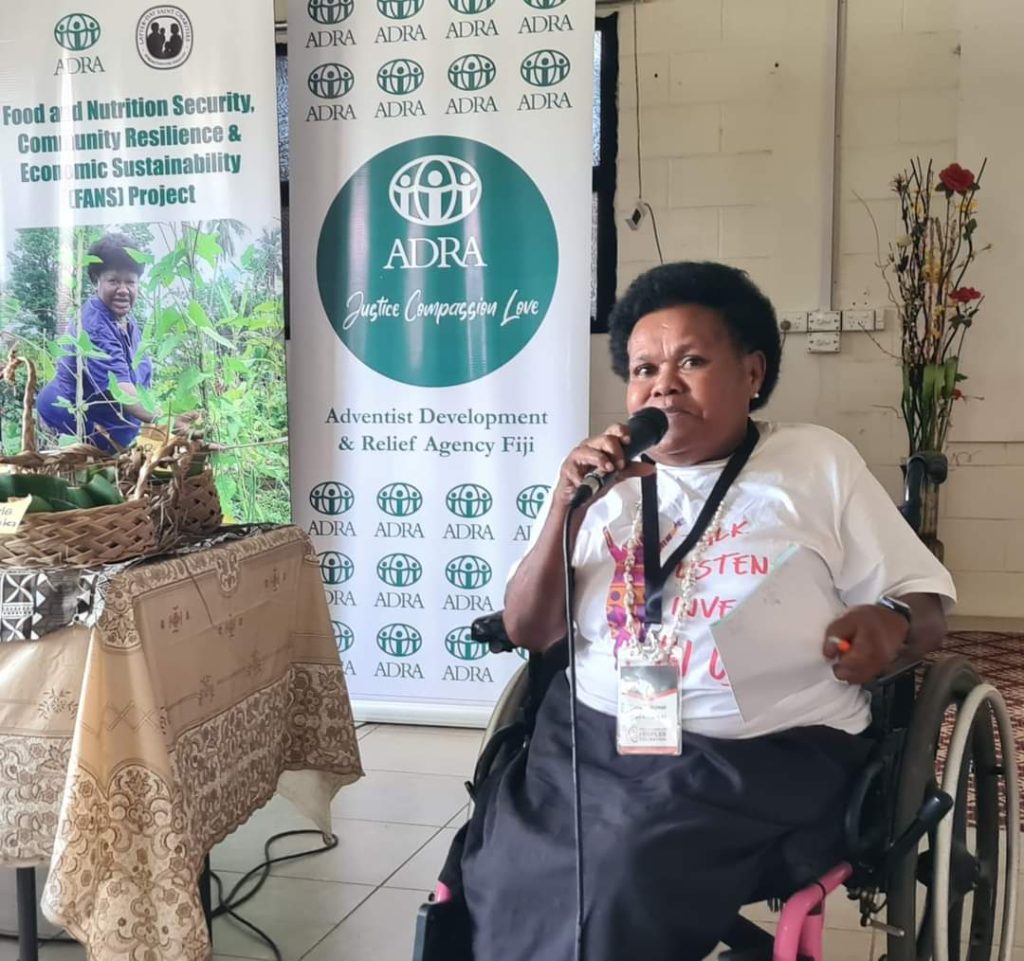 Ms Litia Naitanui of the Rewa Organization of Persons with Disabilities took the lead role in organizing refreshments at the community handover of the Food and Nutrition Security, Community Resilience and Economic Sufficiency (FANCRES) Project earlier this week (7/02/2023) in Lomanikoro, Rewa.
Together with members of her association, they served refreshments from the home-made flour they produced, as well as other value – adding products from their agricultural produce, something they learned from the project.
Implemented by the Adventist Development Relief Agency (ADRA) Fiji with funding support from the Latter-day Saint Charities, the one-year development project focused on 10 vulnerable communities, including Lomanikoro, that were negatively impacted by COVID-19 and in need of immediate recovery on food security, economic sufficiency and building on resilience.
"We have roti, cakes, scones and pancakes which are made from cassava and breadfruit flour, and we have the jam, pickles and chips made from the fruits and crops that are in season," Litia, who is confined to a wheelchair due to her mobility said.
Apart from the reasons highlighted above, Litia revealed that the project had also taught lessons on disaster preparedness.
"The flour that we used today was produced back in October 2022. We had kept it to prepare us for any disaster as we were in the cyclone season but we are finally using it now because i can say that we are now safe from disasters.
"From the value adding training that was conducted, we learned that the flour made from cassava, uto, vudi and other root crops can be stored up to 6 months so we had kept this ready for the cyclone season," Litia said.
"We also learnt other ways of food preservation such as making pickles and jams from the fruits that are in season and also produce uto and cassava chips."
According to Litia, her organization has been looking forward to their trip to Levuka in April where they were going to showcase their products and the knowledge they have gained through the project. At the same, she said, they are also looking at conducting training on value-adding goods and food preservation to the women of Levuka.
Apart from the disaster preparedness, Litia said the project has helped in terms of their food security and livelihood. Money used to buy flour from the shop is now saved or used for other purposes.