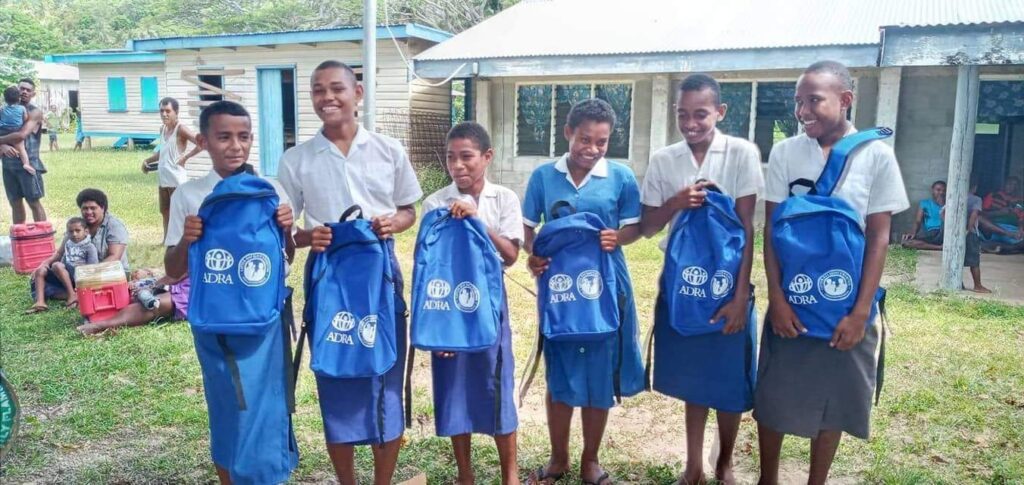 Pritoritising education has always been paramount to the Adventist Development and Relief Agency (ADRA) Fiji.
For that reason, 65 schools in the remote part of Fiji that were affected by Tropical Cyclone Harold have been assisted through the ADRA Fiji's Fiji Stronger Together TC Harold Response Project.
ADRA Fiji has been working closely with the Ministry of Education in the distributions of food items, educational materials and recreational kits to boarding schools and stand alone Pre Schools to isolated schools in the interior of Ba, Navosa, coastal areas of Ra and Nairai in Lomaiviti.
Through the project, boarding schools (primary & secondary schools) are assisted with food rations as their communities still recover from the wrath of the cyclone where their main source of food (farms) were affected.
"We have been distributing food rations to boarding schools in remote areas as their food supplies have been affected by TC Harold. We have given out school materials to help in their recovery – if not for now then they can be used in the new school year," Project Manager Inosi Yabakivou said.
Kavirieli Naleke of Nadarivatu was thankful for the food supplies that were given to Nadarivatu High School to help feed their boarders.
"Food security is really an issue for us after TC Harold. We lost most of our supplies as all farms were destroyed and we had to replant again. Thank you for your assistance which will at least help feed our 60 boarders for the upcoming weeks reducing our worries of having to look for food," Mr. Naleke said.
Assistance in the form of learning materials are also made to stand alone early childhood education (ECE) that solely rely on community support.
The project not only looks at addressing food security for schools but also to provide child friendly learning materials support.
The project is funded by The Latter-day Saint Charities- the humanitarian arm of The Church of Jesus Christ of Latter-day Saints with the purpose of relieving suffering, foster self-reliance and provide opportunities for service.
ADRA Fiji & LDS Charities have been collaborating on a number of humanitarian projects to assist people in vulnerable communities.
The project is another example of the long-term impact and slow path to recovery for isolated communities affected by tropical cyclones in the South Pacific. By partnering with LDS Charities, ADRA is able to leverage stronger humanitarian assistance that helps communities build back better, and be more resilient to future hazards.